OFF GRID SOLAR PANELS
For ongoing performance, you need an off grid solar panel that will work in any condition, from low light to high temperatures and hail. A product with a proven, long lasting record of reliability.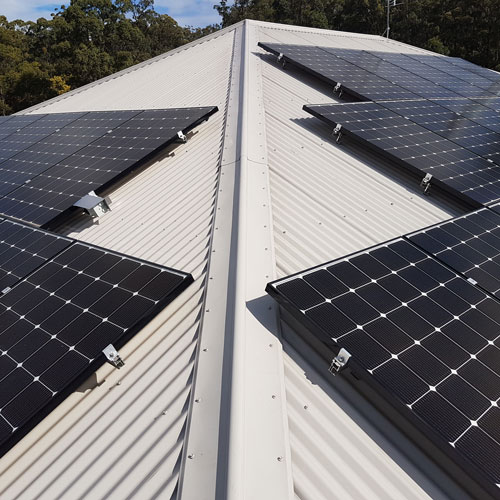 That's why Remote Off Grid Energy only use REC panels. REC are leading the way with temperature performance, keeping panels cooler for increased efficiency and higher yields. Third party testing has shown that the REC N-Peak Series has a normal module operating temperature, before derating at a market leading 44°C. While most other panels derate at 25°C.
These panels offer strong performance from dawn through to dusk. On a cloudy or rainy day, you may only have a few hours of sunlight, so you need to be confident that the off grid solar panels are performing, even when the conditions are against it. At Remote Off Grid Energy, we place our confidence in the REC N-Peak technology.
With high efficiency and power, the REC N-Peak Series uses the most efficient cell technology in the industry, capturing more sunlight, thereby providing more power and enabling continued energy production, even when partially shaded.
The team at Remote Off Grid Energy are REC-certified installers, allowing us to supply you, with an industry leading, 25-year panel replacement warranty. Not only are the solar panels of the highest possible quality, but so are those that are installing it.
These solar panels are manufactured in a state-of-the-art automated facility in Singapore. REC is a completely integrated solar company, they are involved in every aspect from silicon refining to wafer and cell creation and module manufacturing. This integration means a quality product every time.
REC solar panels have an energy payback time of just 1 year, meaning the REC solar panels produce the same amount of power that it took to manufacture them in that time, making them a clear choice for the environment.
Your REC solar panels will perform exactly as they are expected to, every year for 25 years. With 0.5% warranted annual degradation, your REC N-Peak panel will still produce at least 86% of its nameplate power, in its 25th year of operation.
REC Promises that the workmanship and materials of the panels themselves maintain their superior quality for 25 years.