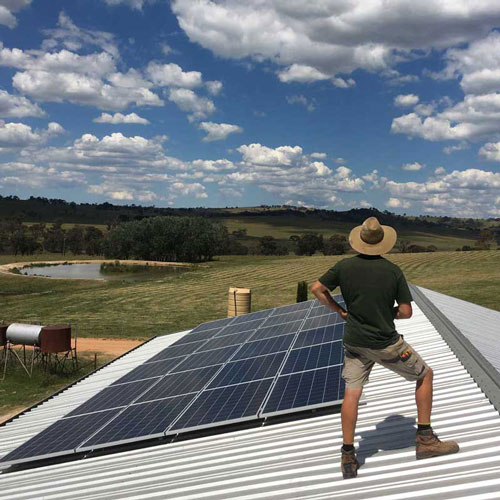 G'day,
With an appreciation for the Australian bush and respect for the people who make it their home or livelihood, it is a labour of love for Remote Off-Grid Energy to offer you a solar solution.
We enjoy exploring Australia's vast landscapes while providing the essential service of electricity, it is a passion and a privilege to do this work.
Remote Off-Grid Energy will provide you with a personalised, reliable solar & battery storage solution, no matter your location or remoteness. We offer an electrical power source that will improve your living standards as you will no longer need to rely on costly fuel-based energy. This is especially important for those of you living in remote and rural Australia.
Your energy cost problems will be solved when you switch to a system built to strive in adverse conditions. This means no shortcomings in power supply during peak periods, (for example during the large demand of muster time).
"I enjoy driving and exploring Australia's vast landscapes and at the same time I get to provide an essential service."
We know what works out bush, our solar and battery power is the best and most reliable option. Using only high-quality equipment, your system will be built tough to last the decades. We know that you can't afford anything but the best and this is our commitment to you.
Remote Off-Grid Energy will involve you in the design and installation process with uncomplicated advice. We have a capped number of jobs per year, to ensure our team can maintain a personal relationship with you and can provide the promised level of technical support. We are not just solar installers we are specialist off-grid solar electricians.
We have a long-term guarantee ensuring you are getting results, so it is extremely important to Remote Off-Grid Energy that the job is done right and that your system is performing as a profitable investment.
We won't take on your project unless we are confident it is in your best interests. This means there are some aspects of the job we will not compromise on, especially when it comes to the standard of products used, or the design. We pride ourselves on offering you high-performance value.
The team at Remote Off-Grid Energy are well equipped and fully set up for working in rural and very remote locations, in fact this is what sets us apart. For most of our clients who are living remotely, off-grid power is a necessity so we will come to you no matter your location. We go where others won't.
Many of our clients are looking for reliable power and ultimate security. Off-grid solar is the most reliable power source available, especially for those of you living or working in remote locations.
So, If you think you're a suitable candidate please get in touch and Contact us today and we can get started on designing you a system that will save you money.